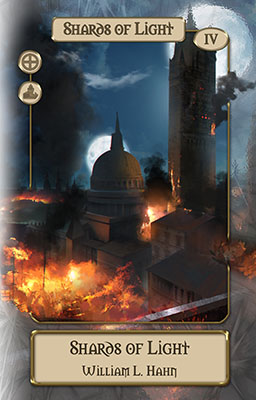 244 pages
first published January 2018
Epic Fantasy Novel
About the Book
When unknown conspirators launch their deadly schemes to overset the city of Cryssigens and trigger civil war, Hope rests on a trio of heroes, none of which fully understands the depth and speed of the approaching menace.
In 2002 ADR, the jewel of the southern empire is the city of Cryssigens, where life is an unending carnival of display, while intrigue brews beneath the surface. Nobles, guilds, and House Cups scheme with and against each other, even in the best of times. But civil war stripped the city of its Overlord, now factions emerge to dare all in a bid to succeed to the throne.
Captain Justin seeks to win political favor in Tralmachia and return in time to tip the balance. But will the brave officer instead find doom for himself and his loyal men in the haunted hills ruled by the Baron of Blood?
Feldspar the Stealthic threads through ancient streets and tunnels, past enemies villainous and monstrous, to locate a fabled artefact in the heart of abandoned Old Cryss. Peril only makes him smile: but how can he choose which of his many faces to honor when the danger bears down on those he loves?
Preacher W'starrah Altieri, who loved the Captain and hired the Stealthic, sees too late the shape of the conspiracy threatening her city, her family. Will her unknown allies ever meet, now that she is helpless to halt the release of the Shard Demon?
As darkness and murder clutch Cryssigens by the throat, the flames of destruction reveal … Shards of Light.
"Shards of Light" is the last story in the Shards of Light saga set in the Lands of Hope.
This book is currently only available in English