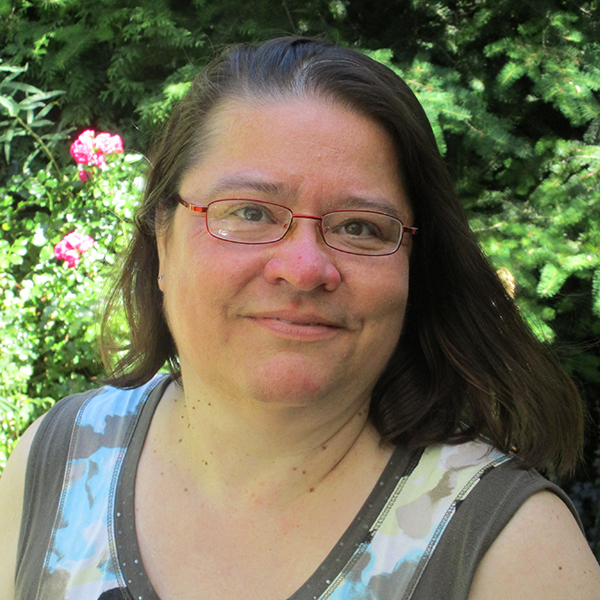 Katharina Gerlach wurde 1968 geboren und wuchs mit drei jüngeren Brüdern mitten in einem Wald im Herzen der Lüneburger Heide auf. Schon früh verschwand sie tagelang in magischen Abenteuern, vergangenen Zeiten oder unheimlichen Märchenwäldern, denn auch junge Wilde lernen irgendwann Lesen.
Es blieb nicht beim Lesen. Während einer Lehre zur Landschaftsgärtnerin schrieb sie ihren ersten Roman, ein Buch voller Anfängerfehler. Zum Glück gab es auch Bücher darüber, wie man es richtig macht, und so erschienen bald die ersten Kurzgeschichten.
Zurzeit lebt sie mit ihrem Mann, ihren Kindern, einem Enkelkind und einem Hund in einem Häuschen nicht weit von Hildesheim und – na, was wohl – schreibt an ihrem nächsten Roman (auf Englisch, den sie dann ins Deutsche übersetzt).
Doch wie alle Menschen ist sie mehr als die Summe ihrer Teile. Sie ist:
– ein unverbesserlicher Optimist mit gelegentlicher Realitätsnähe,
– eine Hausfrau mit Hang zum Chaos,
– ein Organisationstalent mit müden Momenten,
– Besitzerin eines besitzergreifenden Gebrauchthundes,
– Gärtnerin einer Wildnis,
– sowie überqualifizierte Forstwissenschaftlerin.
Und das sind nur ein paar Facetten ihrer vielen Interessen.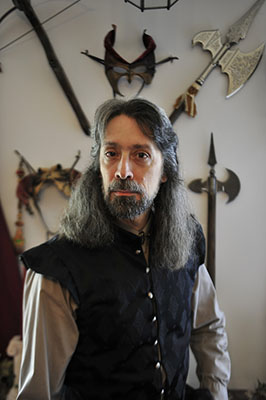 William L. Hahn has been in love with heroic tales since age four, when his father read him the Lays of Ancient Rome and the Tales of King Arthur. He taught Ancient-Medieval History for years, but the line between this world and others has always been thin; the far reaches of fantasy, like the distant past, still bring him face to face with people like ourselves, with choices to make.
Will didn't always make the right choices when he was young. Any stick or vaguely-sticklike object became a sword in his hands, to the great dismay of his five sisters. Everyone survived, in part by virtue of a rule forbidding him from handling umbrellas, ski poles, curtain rods and more.
Now Will lives and works in Newark Delaware with a wife more lovely than he can easily describe, a daughter more miraculous than anyone could credit, and more cats than you would readily believe.
Will has written about the Lands of Hope since his college days (which by now are also part of ancient history). His first tales include "Three Minutes to Midnight", a slightly-dark sword and sorcery novelette, and "The Ring and the Flag", the first story in the ongoing Shards of Light series. On this website, you will find other stories written about the Lands of Hope, including a Compendium of information about the Lands.

Qindie ist ein Zusammenschluss von Autoren und Autorinnen, die sich zur Aufgabe gemacht haben, guten Büchern ein Zuhause zu geben.
Qindie ist eine Online-Plattform und gleichzeitig eine Wort- und Bildmarke, die für Q = Qualität und Indie = Indie-Autoren, also die sogenannten Self-Publisher, steht. Die Initiative für Qindie entstand aus dem Gedanken heraus, eine Schneise in den kaum zu durchdringenden Dschungel aus oftmals lieblos und schlecht gemachten Indie-Publikationen zu schlagen, um dem Leser den Weg zu professionell erstellten Büchern zu weisen.
Ziel ist es, langfristig eine starke Marke zu schaffen, die einem Verlag in nichts nachsteht. Qindie in der Form des Labels steht für Bücher, die formalhandwerklich professionell produziert werden und den gängigen Regeln des schriftstellerischen Handwerks entsprechen.
Einmal jährlich gibt Qindie in Zusammenarbeit mit dem Independent Bookworm einen Sammelband düsterer Kurzgeschichten heraus. In 2019 gab es erstmals einen weiteren Band mit dunkelbunten Geschichten rund um das Thema Liebe.